Cory Roth Quoted in Sports Illustrated Regarding International Soccer Dispute
American youth soccer clubs don't receive compensation for former players signing professional contracts, despite FIFA regulations designed to reward successful player development through its "solidarity mechanism." U.S. Soccer doesn't allow it, citing law precedent, so one of DeAndre Yedlin's former clubs is appealing to the world's governing body in hope of finally getting paid.
Yedlin grew up in the Crossfire Premier system, which has produced a number of professionals in the U.S. and abroad. After Yedlin completed his transfer from the Seattle Sounders to Tottenham Hotspur in January, Crossfire opened correspondence with Spurs to begin the process of receiving solidarity.
Nabarro, Crossfire's London-based lawyers, sent a letter to Tottenham on Feb. 19. The Premier League club responded a month later, acknowledging its responsibility to pay, as laid out in the FIFA Regulations on the Status and Transfer of Players.
Article 20 dictates that training compensation must be paid to all clubs that had a hand in a player's development up to age 21 for first-time professionals and transfers between clubs in different national associations until he turns 23. Article 21 states that solidarity is due for non-free player transfers to every club that held his registration until age 23. Yedlin will turn 22 on July 9.
At first, the problem holding up the process was a mistake in Yedlin's official player passport declaring that he only played two years for the club rather than the four he spent there between 2006 and 2010. (He also played for Emerald City SC and Northwest Nationals in the Seattle area before joining the Sounders academy.)
According to Crossfire's letter to the FIFA Executive Committee sent Monday, Major League Soccer became aware of the situation when Spurs reached out to University of Akron to initiate a similar payment. Akron alerted MLS, which contacted Tottenham.
Spurs suddenly reversed course, refusing to pay Crossfire.
Klinsmann turns to experienced USA squad in CONCACAF Gold Cup quest
"In the intervening period since our letter dated 18 March 2015, we have engaged in discussions with Major League Soccer regarding the treatment and payment of potential solidarity contributions arising on the transfer," Tottenham wrote to Crossfire's lawyers on April 8. "Following on from these discussions, we advise you that any claim for solidarity contributions in relation to this transfer should be addressed directly to the U.S. Soccer Federation."
After follow-up inquiries, Spurs told Crossfire it made all payments regarding Yedlin's transfer directly to MLS at the league's instruction, including the 5% of the transfer fee normally designated for solidarity contributions.
"We have been advised by MLS to remit payment of the full transfer fee directly to MLS in accordance with the transfer agreement and that MLS will ensure the appropriate treatment of any and all onward payments," Tottenham director of football operations Rebecca Caplehorn wrote to Crossfire on May 15.
Crossfire's representatives contacted the USSF and MLS in an effort to understand why the league swooped in and why the club could no longer receive its due payment.
In a subsequent phone call with Crossfire's representatives, U.S. Soccer lawyer Gregory Fike referenced a confidential agreement based on the landmark Fraser v. MLS case tried in the U.S. District Court in Massachusetts as reason why the federation could not "impose, implement or enforce in any way those rules, statutes or regulations adopted by FIFA relating to the payment of training and development fees."
Fraser v. MLS was an antitrust lawsuit brought by eight MLS players against the league, its investors and U.S. Soccer filed in 1996 that played out over six years. The case did not definitively confirm MLS's single-entity status, which would exempt it from antitrust scrutiny, but the players could not conclusively prove that the league's structure was inherently anticompetitive and lost anyway.
Atlanta United FC: MLS's 2017 expansion team selects its name
​Nabarro's formally documented notes of the call indicate that Fike agreed twice to provide a copy of the consent decree for the firm's review. However, in an email three days later, he would not follow through, writing, "We do not provide copies of the consent decree." In Fike's defense, if the consent decree is a settlement claim and thus not a public document, then he is not legally obligated to share it, absent a court order.
MLS finally responded to Crossfire's attempted communications on June 9, its first and only statement on the matter. The email from Bill Ordower, MLS senior vice president and general counsel, reads nearly identically to Fike's regarding the enforcement of FIFA regulations on training fees.
"As a member of U.S. Soccer, MLS is bound by the same," Ordower wrote.
After that email, Crossfire's legal representatives decided to send their letter to FIFA, asking it to address the American governing bodies' alleged interference, rather than pursue it further with U.S. Soccer and MLS.
"[It] would seem to be that the correspondence has run its course," Ben Trust, Nabarro's partner handling the Crossfire case, told SI.com in a phone interview. "The door has been slammed firmly in our face by U.S. Soccer and MLS, and in these circumstances, we'd normally advise a client to file its claim with FIFA."
Sponsor conflict, good intentions, big business: The USWNT's fired kit man
Crossfire could take its case to the FIFA Dispute Resolution Chamber, but the nonprofit club is reluctant to pay a fee of 25,000 Swiss francs (a little more than $26,000 at the time of writing) to have its case heard. To further complicate matters, FIFA cannot hear cases relating to domestic law because it has no jurisdiction within a single country's borders. FIFA regulations also normally prohibit members from bringing lawsuits against one another in domestic court.
As such, the letter to the ExCo asks permission for Crossfire to sue U.S. Soccer and MLS in the U.S. or the United Kingdom. However, the letter leaves room for FIFA to intervene rather than have the case go to court.
"Should the Executive Committee feel that the DRC or another administrative body within FIFA is able to fully adjudicate the issues here and recourse to U.S. domestic court is unnecessary, then Crossfire … will be bound by the final decision of the Executive Committee," it reads.
Under some circumstances, FIFA may pay the Dispute Resolution Chamber fee itself, but as Crossfire would have to bring its case against Tottenham—because the burden of paying training compensation and solidarity rests on the player's buying club—that would not guarantee MLS and U.S. Soccer's involvement.
"In our view, [Spurs] have been very cooperative and supportive and helpful of us, and it's unfortunate they are stuck in the middle," Trust said.
Responding to an email from SI.com, a Tottenham spokesman said the club could not comment because club policy prohibits discussing contracts with the media.
"In the circumstances, writing to the FIFA executives is a sensible step to at least raise the profile of this issue," Trust said. "I personally can't believe it's not on their radar, but setting out the history of the exchanges we've had with U.S. Soccer and MLS, I think, will highlight the injustice that the academy and charity clubs are suffering."
It would seem the entire case rests on the mystery agreement from the aftermath of Fraser v. MLS. Crossfire's representatives dispute its very existence, citing the fact that nobody seems to have seen it besides U.S. Soccer officials, who would not disclose it.
Clint Dempsey gets additional U.S. Open Cup ban: Six games or two years
"We pushed U.S. Soccer on this point quite hard," Trust said. "I think we and Crossfire are entitled to draw adverse inferences from the failure to provide the one document that U.S. Soccer rely upon. I think that is a peculiar course to follow. If that document says what they say it says, it would be the end of our conversation with them, and you'd think they'd want to produce it. It's perverse that they have not."
In Trust's view, Fraser v. MLS's only possible relation to training compensation and solidarity comes from a single footnote in Count II of the case, one that explains how the federation received respite from that portion of the lawsuit.
Nabarro's notes say the federation claims the consent decree is a separate document, "entered into between U.S. Soccer and its members" in 1997 or 1998.
"The closest we can see … from that case is that footnote in relation to a by-consent settlement between some parties," Trust said. "Our view is, how can that possibly bind all of the clubs, when it's between Fraser and a few of the other players and U.S. Soccer, who were the parties at those proceedings? Again, we find that to be perverse."
FIFA's regulations on training compensation and solidarity payments came into existence in 2001. That would make decisions based on Fraser v. MLS and any subsequent agreement one or two years later outdated as far as FIFA's updated statutes are concerned.
The consent decree also wouldn't necessarily explain why MLS, despite being allegedly unable to implement or enforce FIFA's regulations on training fees, would be able to take Crossfire's portion of the compensation. If no American clubs are able to accept these payments, MLS shouldn't be allowed to pocket them, Crossfire's lawyers said.
Nabarro's notes state that the federation agreed with that assertion, but USSF was unaware whether MLS took training fee payments from Tottenham for Yedlin. Contacted for this story, MLS deferred comment to U.S. Soccer, which did not offer comment before publication despite acknowledging requests from SI.com over the past week. In fairness to both, they do not have a clear incentive at this time to reveal potential legal defenses in the event they are brought to court.
Trust highlighted previous cases in which American clubs refused training compensation and solidarity, even sending checks back to foreign clubs. When Jonathan Spector joined Manchester United at age 17, U.S. Soccer returned the money United sent.
"What we find peculiar is the way in which U.S. Soccer and MLS have managed to manage your clubs into a position where they would return a check," Trust said. "That's quite something."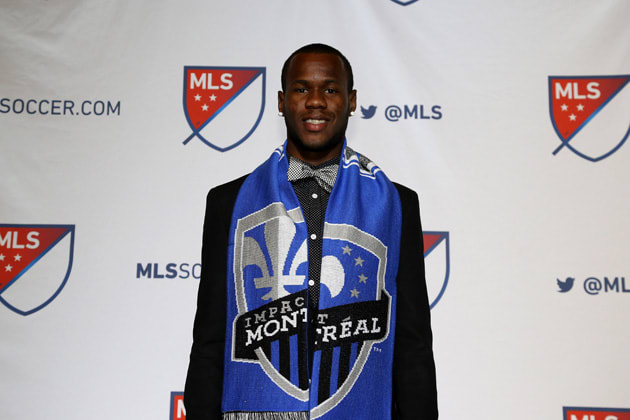 Interestingly, training compensation and solidarity are not on the list of FIFA regulations that MLS rejects in its own rules. The league's collective bargaining agreement makes no mention of them, and neither does the standard MLS player contract, while other FIFA regulations are specifically rejected.
Still, MLS has long refused to pay out training compensation. In one transfer agreement for an incoming foreign player obtained by SI.com, MLS inserted a clause precluding the selling club from claiming training compensation. Strangely, MLS also required the club to ensure others not party to the contract wouldn't claim those fees either, despite the fact that a club not involved in that transfer could never be bound by that contract.
"USSF and MLS appear to behave in a conspiratorial manner, acting side-by-side to deny U.S. youth soccer clubs any training compensation and solidarity fees because they are afraid that the dam will burst and MLS will have to pay training compensation," Crossfire's letter to FIFA reads. "Although not specifically relevant to the relief that Crossfire and the U.S. youth soccer clubs are seeking here, the Executive Committee may wish to explore the seemingly improper relationship between USSF and MLS shown here. The facts are clear that the two are closely aligned in an anticompetitive manner in the U.S."
Recently, Jamaican clubs asked to be compensated for players selected in the MLS SuperDraft. Portmore United contacted the league after the Montreal Impact took Romario Williams with the No. 3 pick in 2015, as did Cavalier SC for Andre Lewis, taken by the Vancouver Whitecaps in 2014. MLS stymied both with what Portmore called "bullying" behavior.
Growing up at Fulham: Life as an American youth in a foreign academy
In another transfer agreement, this one for an American player to a foreign league, MLS stipulated that the transfer would be subject to solidarity payments. Inclusion of that clause gave MLS opportunity and recourse to receive solidarity without U.S. Soccer's approval in a case besides Yedlin's, although it's unclear whether it did.
Training and development fees could offer U.S. youth clubs incentive to develop players where hardly any exists, except MLS franchises' motivation via the Homegrown Player rule.
"The question should be asked as to why MLS clubs are willing to spend millions of dollars, if not dozens of millions of dollars, on the likes of Steven Gerrard or [Frank] Lampard or maybe [Andrea] Pirlo now, or Thierry Henry as we did with Red Bull, and yet we're not willing to compensate our own neighboring clubs or competitive youth clubs throughout the country that are the ones where the vast majority of the MLS players, at least the U.S. ones, are being developed," Jérôme de Bontin, former New York Red Bulls general manager and AS Monaco president, told SI.com. "It would certainly benefit MLS teams in the end, so as to why the federation won't budge on that or why they would not take action, I think it's mostly because it's been ignored, and the pressure hasn't built enough."
Non-MLS American teams are starting to request those payments more often, and Crossfire is not alone in pursuing the issue stateside. It's beginning to blow up in the American soccer landscape after being a fringe issue for much of the time since FIFA created the mechanism.
De Bontin, member of various MLS committees in his time with the Red Bulls and chairman of the U.S. Soccer Foundation's Development Committee, said the federation yields too much to MLS on player development.
"I think really, the federation is very entrenched with its commitment with MLS. They have led us to believe that MLS were already doing enough and that therefore, this was not an issue that really was so urgent that it needed their attention," he said. "Unfortunately, this sort of incestuous relationship with MLS has come at the expense of the development of players."
Trust said he pursued the same line of questioning with U.S. Soccer, specifically asking why youth clubs shouldn't be allowed to benefit from developing pros.
"The very purpose of [the payments] is to reward them for that investment," he said. "The idea is—it's in the name: 'solidarity'—the solidarity of world football, to support the grassroots."
USA finds inspiration in Supreme Court ruling for WWC win over China
The catalyst for change, all experts interviewed said, could be concurrent pressure from multiple clubs haranguing MLS and U.S. Soccer on the matter. Crossfire's letter to FIFA states that the club "is aware of at least seven other U.S. youth soccer clubs that have training compensation and/or solidarity fees payable from soccer clubs outside the United States," adding that the true tally in that category could well be much larger.
"First and foremost, Crossfire wants to get paid its portion of the solidarity fee that Tottenham agreed to pay us and MLS had taken," Lance Reich, Crossfire's Seattle-based lawyer, told SI.com. "The second thing we hope to get is to help all of the clubs like Crossfire—and Crossfire itself because it's going to have the same issue pop up again—to be able to get training compensation and solidarity fees without interference from U.S. Soccer or MLS without justification for doing so."
Reich said most of the clubs in the suit would likely prefer to remain nameless, fearing retribution from the federation.
"U.S. Soccer typically will give … pretty overt threats, especially for clubs who have U.S. Soccer Development Academies like Crossfire, to not pursue these fees," he said. "Crossfire's brave enough to come forward to really raise this to the front."
Westside Timbers, a Portland club affiliated with MLS's franchise of the same name, also sought payment for U.S. under-20 national team forward Rubio Rubín. He played for Westside before signing with FC Utrecht in the Netherlands when he turned 18.
"They're afraid of being sanctioned by U.S. Soccer, and I think it's a very real concern," Cory Roth, Westside's legal advisor, told SI.com. "I think it's legitimate, based on the pattern we've seen of U.S. Soccer basically strong-arming youth clubs by citing meaningless law, this consent decree, and making thinly veiled threats of retribution."
However, it would likely be more difficult for the federation to ignore or sanction multiple clubs at the same time.
"Strike while the iron is hot," Roth said. "I think there is no better time in the history of world soccer or American soccer to make this a public issue and get FIFA involved."
De Bontin said FIFA officials would find this type of case interesting.
"I've talked to FIFA and I've talked to attorneys who work regularly with FIFA, and I feel pretty strong that once the case is well documented and makes it to the upper echelons of the FIFA hierarchy that a U.S. club will get compensation for their work," he said.
Crossfire stood up to the federation and MLS to begin the process. Now, it's just a matter of finding the proper venue for the case to proceed.
"At the moment, an opaque reference to a semi-mythical order that no one's ever seen leaves the way rather muddled," Trust said. "I'm keen for this document to be disclosed so we can decide the appropriate forum: either U.S. Soccer meet us at the DRC and become involved in our case with Tottenham, or we meet them in the U.S. courts and challenge the consent decree."
De Bontin said current USSF policy holds clubs back from producing to their full potential, and it provides a major hurdle to overcoming the American pay-to-play model of youth soccer. However, he said he believes the federation would eventually see the benefits of allowing clubs to receive training fees for their players.
"At the end of the day, they're there to further the growth of the sport. I think when pressured, they will do the right thing," de Bontin said. "I look at this as an important milestone if we want to continue developing players and maybe catch up with the time that we have lost."